myecardsonline.com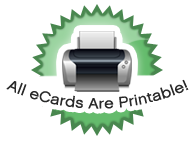 | | |
| --- | --- |
| | |
Why our ecards?
Greeting cards have long been a key part of our communication with friends and family during life celebrations, boring days at the office, and of course, holidays. Now we've taken the concept of animated ecards and created some of the most entertaining, heartfelt and fun online greetings anywhere on the web. We dare you to not smile while viewing our ecards.

Of course, there are lots of choices when it comes to silly ecards. Or Keep In Touch ecards. Or pretty much any type of fun ecard. But we offer them for free. No subscription. No registration required. Just unlimited access to over 1,500 free animated ecards - and we add more greetings every month. Some funny. Some sad. Some wildly inappropriate.

Just because you're sending an email greeting doesn't mean it can't be personal. In fact, we would argue that our custom ecards, our highly personalized ecards can capture an emotion, sentiment or situation better than a paper card. That's the wonder of animation, it's true storytelling. Don't just say you're sorry for missing someone's birthday, send a belated birthday ecard with music, animated characters and a personalized message from you to mend any broken fences.

Think a Love eCard or Valentine's Day greeting isn't romantic? We wouldn't recommend only sending "loving you ecards", but one love card a day for a week leading up to some flowers or a night out on the town? Magical.

And our fun cards go beyond just your typical get well ecards or new baby ecards. Our "Say It Your Way" cards allow you to add your own photo, backgrounds and message using fun fonts and colors. Or try our "Be a Star!" feature to create free animated e cards with your face inserted into an animated cartoon story.

So give us a try. Send a smile. And stay in touch in creative new ways sure to please your friends and family.